Signed in Pink Events
By Ayanna Maxwell
So, we've talked about the wedding ring, wedding planner, and wedding etiquette. What's next? It's only right that we discuss the wedding dress!
Your wedding dress is a crucial factor in your wedding day. You've got to find the perfect dress – a dress that makes you feel confident and beautiful inside and out. Finding your dream dress can be like finding a needle in a haystack, but it doesn't have to be. With these tips, your perfect wedding dress will be in your hands in no time.
1. Keep an open mind.
Plenty of women already know what their dream dress looks like – whether they've actually found it yet or not. Tons of girls begin fantasizing about their future dream dress as just teenagers. With that said, it can be easy to fixate on finding that exact dress, down to every sequin. Don't be close-minded when searching for a dress. You might just end up falling in love with a dress you never would have expected.
2. Shop based on your current size.
Even if you plan on losing weight before your wedding, it's best to shop based on your current body size. Closer to the wedding date, you can get your dress altered and taken in to fit your size after you've lost weight.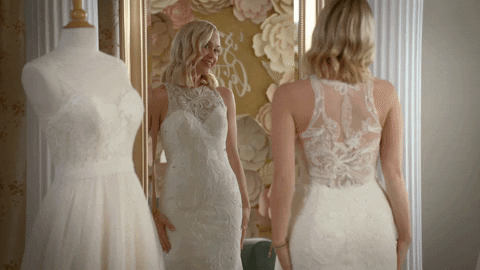 3. Budget accordingly.
It's good to set a realistic budget before going dress shopping. When it's time to go shopping, you should have an idea of the price range you're looking for and you should know who is going to be paying for it (you, your husband, your parents, etc.)
4. Set an appointment to shop.
Going shopping for a wedding dress isn't like shopping at the mall. You'll want a consultant there to help you try on dresses and find the perfect one. Be sure to set an appointment ahead of time.
5. Surround yourself with the right shopping partners.
Choose 2-3 people whose opinions you trust and value you to help you pick the dress that suits you best. Be mindful of different personalities; you'll want to be around people who will make you feel beautiful, relaxed, and happy throughout the shopping spree.